You've seen pictures splashed across the pages of Pottery Barn catalogs—charming daybeds with storage drawers underneath. But the budget-conscious, craft-capable can easily create a DIY daybed with storage for themselves.

The daybed is one of our favorite versatile furniture pieces. As a chaise by day, bed by night; daybeds are perfect for entertaining out-of-town guests. And when your house hits capacity, a daybed with storage makes even the smallest space feel a whole lot roomier.
Here's how to make a DIY daybed frame…with storage to boot!
DIY Daybed with Storage: How to Get Started
First things first: Gather your materials.
Typical Tools
If your tool shed is lacking some of the more heavy-duty items, borrow some from a friend or rent them from a home improvement store.
Level
Measuring tape
Hammer or nail gun, and finishing nails
Wood screws
Pocket hole screws
Drawer slides
Sander
Knobs for drawers
Wood stain or paint of your choice (optional)
The Lumber
Stick with pine and plywood. They're both affordable and durable. Remember sanding will help smooth any splinters or rough spots. Pro-Tip: Most home improvement stores will make the cuts for you; just have your measurements ready!
The Plans
Portable Pallet Daybed
Most beds stay in one place, perhaps shifting on occasion to inject new life into a boring space. But they certainly don't need to be stagnant structures.
Turn wooden shipping pallets into a daybed, simply by screwing casters to their underside. Pallet sizes will vary, depending on the mattress you want it to hold (a standard twin measures 39' x 75').
Storage surprise! The underbelly of the wooden pallet can store smaller items between the slats. Just make sure to sand it to avoid splintering.
Get the full tutorial from prettyprudent.com
Built-In Table Daybed
Bedtime accompaniments—like a good book or a glass of water—require a place to put them when they're not in use. This DIY daybed is easy to build, features storage underneath and even has its own table space! Breakfast in bed just became easier.
Get the full tutorial from properblog.com
Spacious Storage Daybed
The main attraction of a daybed is usually not the storage—but it is with this spacious sleeper! You'll need mostly 2x4s for the project, as well as some slabs of thick plywood.
Get the full tutorial from atraillife.com
Toy Trunk Daybed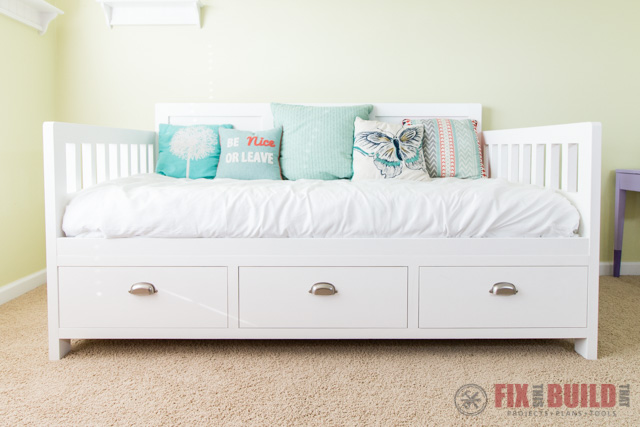 Not even walking on hot coals compares to the pain of stepping barefoot on your kids' loose Legos. Build a toy chest daybed and put those evil blocks to bed too.
Bonus: Learn how to organize your child's playroom.
Get the full tutorial from fixthisbuildthat.com
When you need more storage than what's in your DIY daybed, move your clutter into a storage unit. Find a Self Storage location near you!