Are you a shoe lover lacking square footage? Then you're probably short on buyer and DIYer shoe storage ideas for small spaces, too.
Sneakers and stilettos and sandals, oh my! Why does searching through a mountain of shoes always create an avalanche in your closet? Maybe because your apartment is—ironically—the size of a shoebox.
Cramped quarters and shoes go together like Andi Saks and Miranda Priestley. Spoiler alert for those who haven't seen the film: Disastrous.
Whether you're a buyer or a DIYer, here are the best shoe storage ideas for small spaces:
Shoe Storage Ideas for Small Spaces: Favorite Furniture
STÄLL Cabinet from Ikea
Dimensions: 37-3/4″ w x 6-3/4″ d x 35-3/8″ h
This piece is shoe storage that's doesn't look like shoe storage. The outside may not look spacious enough for your sandals, but each of the four drawers open at an angle, making space for 2 pairs per compartment. There's even enough room for a picture frame or decorative accent on top!
Shoe Organizer from Target
Dimensions: 28.96 inches (L) x 14.57 inches (W) x 14.76 inches (H)
This shoe storage piece has 8 perfectly-sized compartments for 8 pairs. Place this piece in a closet or slide it on its side under the bed.
Ridgley Shoe Storage Cabinet from Wayfair
Dimensions: 49.33" h x 27.72" w x 9.45" d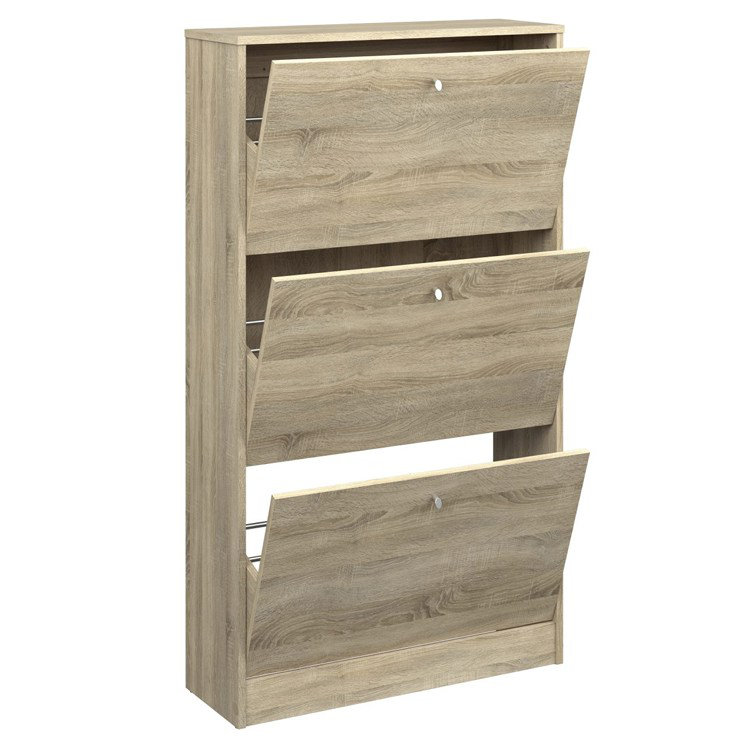 The Ridgley Cabinet comes in a variety of wood finishes fit for any city-centric studio. You'd think its Scandinavian design would be its most attractive feature, but it's actually the fact that it holds 30 (!!!) pairs of shoes.
Shoe Storage Ideas for Small Spaces: DIY
Tension Rod Trick
All you need for this inexpensive hack are a couple of tension rods. Place the rods in a closet or another tiny blank space. Allot 2 tension rods per row. Space them level for flats and stagger the rods for heels.
Wire Hanger Makeover
Use a wire cutter to slice the bottom of a hanger in half. Take each end and curl it up and out.
Place a shoe on each piece and hang in the closet.
Hanger pro-tip: Use pants hangers to dangle boots.
Coat Hook Hack
Mount coat hangers to the wall for easy floating storage. If you mirror your shoes facing away from one another, each hook can hold 2 shoes.
Want more ideas to maximize your small space? Check out these clever ways to make room for shoe storage, as well as these storage tips for your dorm room.